'The future is faster than you think'
18/11/2021, 10:43
| 8 Min read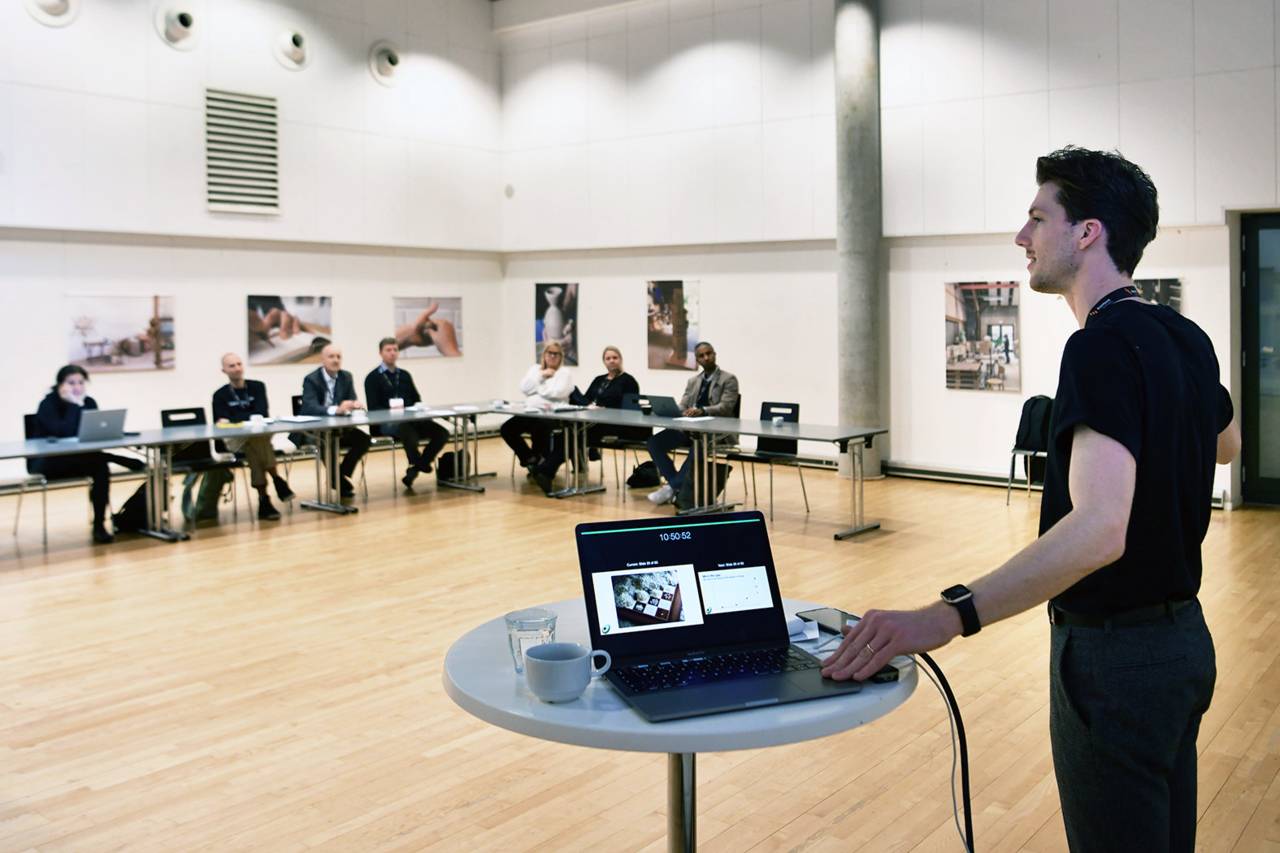 Boye 21 Digital Leadership conference. Aarhus. November 1-4
Looking over the horizon
At the beginning of November, I attended the Boye 21 Digital Leadership conference in Aarhus, Denmark. This annual event is a welcome opportunity to look beyond the pressure of deadlines and upcoming projects to explore the bigger picture. And every year, that digital picture gets larger and more transformative.
With COP26 still in progress across the North Sea in Glasgow, one speaker focused attention on the importance of "climate optimization" in our digital strategies. Customers want frictionless experiences that support sustainability and inclusivity.
The keynote on digital branding, given by Knuth who is the director of strategy, creative and business innovations ant Bates VMLY&R, was among the most thought-provoking (as it invariably is). The speaker interrogated the digital obsession with "seamlessness" when you would hardly describe the human experience as "seamless". For a brand to resonate it has to connect meaningfully to how we experience our lives, which is why the most iconic brands evoke tension, even contradiction. Nike, for example, projects itself as "everyman elite", Disney as "magical mundane" and Land Rover as "hardworking luxury". Brands live and thrive in the relationship between these (seeming) opposites.
The talk I was looking forward to the most was entitled: The future is faster than you think. It was given by Adam Healey, Europe Digital Manager and project lead at EssilorLuxottica, the world's largest manufacturer of ophthalmic lenses. Adam is well-known to us at Ibexa because he is leveraging our DXP to transform the way EssilorLuxottica talks to its end-customers, making the transition between them and EssilorLuxottica's B2B partners, the opticians, as natural as possible.
I knew Adam to be a great innovator and communicator, and he did not disappoint at Boye 21.
On the threshold of the Age of Exponentiality
We are always being told that change is a constant and that the pace of technological change is not about to slow down. To Adam, this consensus view is such an understatement as to be almost untrue. Our future, he argues, is not merely transformational, it is exponential.
Adam's vision of the digital future moves away from Covid and yet is framed by it. "Covid was a test and a recapitulation of the past 20 years," he said. "Despite the very negative (health) side, we came out quite triumphant from a technological point of view."
Adam cites the transformation of e-commerce which, in the US, grew 10 years in the three months of the first Covid lockdown. Businesses that lost their markets or supply chains were forced to pivot towards selling directly to the end-consumer. D2C is a prime example of the business disruption known as disintermediation where technology abolishes the middleman.
"We see this everywhere. Peleton is a successful brand in the US; it takes the gym right into your home. During Covid, Microsoft Teams and Zoom fundamentally removed the middleman of the physical world. Banking start-ups do the same. A more recent development is telehealth where we are starting to remove the need to go to a surgery to consult a doctor."
Wherever you look, Adam remarked, "software is eating the world", a phrase coined by the co-founder of Netscape, Marc Andreessen.
Over the past two decades, many famous businesses have been devoured by the Digital Revolution. CEOs misunderstood what was happening and were overwhelmed by the speed with which it happened.
In our exponential future, Adam argued, it will be even more challenging and chaotic for businesses to leverage change – and for society to absorb it. "A good example of this problem of exponentiality is Facebook which started as a campus website to having almost 3 billion active users in under two decades. Society is still trying to catch up with the phenomenon, and we are not well equipped to do that because typically humans see the future as being linear – we are just programmed like that," he said.
Exponentiality is difficult to think about. "If you've walked 30 steps in a linear fashion, you have travelled 30 meters," Adam said. "But if you walk 30 steps in exponentially, you walk 1 billion meters. That's the kind of change in speed we're talking about."
This is scary and exciting at the same time.
"Right now is probably the most exciting time to be in business when we think about the possibilities, but it's also one of the scariest times because we have five converging macro technologies that are going to be extremely disruptive in the future.
"The only other time in history where we've had such technological disruption was during the early 1900s where we had the automobile, the telephone and electricity all converging at the same time to create what pretty much defines what society is today."
Adam went on to describe these macro technologies.
The five converging technological shifts
1. DNA sequencing
"About 10 years ago, it was cost $1m to do DNA sequencing of the human genome. Now it costs around $1,000. That's exponential growth in the technological capabilities and the deflationary price changes. Why is this a macro change? Because it means that we're able to use DNA sequencing and AI to understand our bodies better. It is predicted that we're going to be able to add 40 years of healthy life to many people already alive today. This will impact work trends massively."
2. Artificial Intelligence
"AI will think and do things like human beings. I don't think we're anywhere near that yet, but AI is very good when you give it an algorithm, when you give it a specific task, it does the machine learning. It discovers patterns. AI is just going to be a part of everything, and it will just get better and better. And it's going to drive change very quickly."
3. 3D printing
"Our capabilities in this space are mind-boggling. Engineers at Relativity (who previously worked for Elon Musk's and Jeff Bezos's space projects) recently said that 95% of a rocket can now 'simply' be printed. Amazing.
4. Blockchain
"This is the latest evolution of the web. If web 1.0 marked the early stages of the web, where you had an open interface and had to be a bit of a techie to use it, then web 2.0 is where we are now. We've been there a long time, and what characterizes web 2.0 is centralization. Everything consolidated around tech giants such as Facebook and Google, and the internet became very siloed.
"We became the product; the data became the product."
Blockchain or web 3.0 blows this wide open because it decentralizes the internet.
"Blockchain is fundamentally a digital ledger sat on an infinite amount of computers, meaning it's not centralized on one database. This means that basically you own your stuff. I can put something on the internet, it's on the blockchain. It belongs to me and it's infinite. It's everywhere. I'm not giving it to Facebook. I'm not giving it to Google – it's mine."
The Achilles heel of web 3.0 seems to be its energy inefficiency. Bitcoin, currently the most visible manifestation of blockchain, is criticized by environmentalists for requiring vast amounts of energy to run its servers.
Adam sees this as a short-term issue because he believes that energy storage is about to take a quantitative leap forward.
Energy storage
It all comes down to price.
"Batteries have declined in price by 20% on a compound basis over the last decade. In addition, solar panels have decreased in price by 10% to 15% year-on-year to the point where solar is now the cheapest form of electricity.
"The deflationary power of this technology over time means that the price point is extremely low for the end customer, making energy abundant, even infinite. That's one of the big unlocks of the future where energy becomes this commodity a little bit like the internet, which is just available.
"That's incredible. That's a huge technological shift."
How to survive in a chaotic world
Of course, Adam has no blueprint for how businesses should negotiate the coming decades of fundamental change. But he did offer a few ways "into" this problem. The first was the tantalizing question: "If you were to start a business today, what would it look like?"
Steve Jobs didn't have a blueprint of the future either, but he did ask himself left-of-field questions. "He was always asking: 'Who could possibly disrupt us? Who or what could disrupt the business model of the iPhone? In the early days of the iPhone, Jobs' answer was: 'The mobile phone companies. If they think about storage a little bit, they can put us out of business.' But of course, the mobile companies didn't look beyond the horizon, they did not leverage disruption – and the iPhone triumphed."
We are all busy and we all have deadlines and budgets. But in the exponential future, Adam predicted, the mentality of "we do this project, we change this role, we disrupt ourselves for two months" will become increasingly untenable. "Of course, there is a lot of talk about agile mindsets and change management already," he added, "but the following question gets asked less often: 'Do you want to be agile to do something differently or to be something different?' Companies have to face this head-on to navigate the exponential future."
Adam's biggest piece of advice? "Do not fear change. And do no unwish it. " A question from the conference floor was about digital fatigue and a resistance to a life spent online 24/7.
"Our kids will never know a world that isn't constantly connected." Adam replied. "They all expect to swipe a screen and get automatic access to every song ever recorded! If that is the norm that you grew up with, how can you yearn for a past that doesn't exist for you?"
Not only that. Adam anticipates that today's children will also come face to face with the many questions he raised at the Boye 21 conference. "They will probably have the same discussion," he concludes, "because the technology exponentially keeps advancing, advancing, advancing."
And that is something to celebrate.
Janus Boye is already planning next year's Digital Leadership Conference, click here for the latest information on dates, venue and speakers.
Photos by lb Sorensen.